Quality Roofing in Bloomington, IL
Trusted Experts for Roofing, Siding, Windows & Doors in Central Illinois
Why Sundown Exteriors is the Right Roofing Contractor for You
We Have The Best Warranties In The Business
We Have An Exclusive Partnership With The Region's Top Public Adjuster Firm, Which Will Negotiate With Your Insurance Company On Your Behalf
Our Crews Leave No Job Finished Without Our 40-Point Quality Control Checklist
We Recognize And Practice The Highest Level Of Safety And Our Crew Are Covered By Work Compensation
A Focus On Communication – Never Wonder What's Going On
Thorough Clean Up – The Only Thing Left On Your Property When We're Done Is Your New Exterior
We Go The Extra Mile To Make Sure Everything Is Done Perfectly
Sundown Exteriors offers quality general contractor services near you, for the best price in the Bloomington – Normal Area.
Sundown Exteriors offers quality general contractor services near you, for the best price in the Bloomington – Normal Area.
Our Roofing Service Warranty
Sundown Exteriors offers Bloomington residents the strongest leak protection guarantee in the asphalt shingle industry. This is a pledge to cover the entire roofing system at the manufacturer's expense if any problems occur after the job is done.
Our Golden Pledge is a fool-proof solution that provides the peace of mind that all homeowners deserve when making the investment for roof repairs and roof replacement.
We are part of a select group of roofers that have a 5 star Certainteed Select Shinglemaster. We are also Owens Corning Preferred Roofing Contractors in Bloomington-Normal.
We Install Energy Efficient Skylights, Windows, and Doors
GO GREEN & SAVE MONEY!
• Energy Star Tax credits
The Expert Roof Repair Service You're Looking For
LEAVE YOUR WORRIES BEHIND
You'll be glad to know, our responsible and professional team in Bloomington – Normal will take great care of your home and belongings. Not only do we use top qualify materials and work tirelessly to repair or craft the perfect roof for your home, but our pricing is affordable.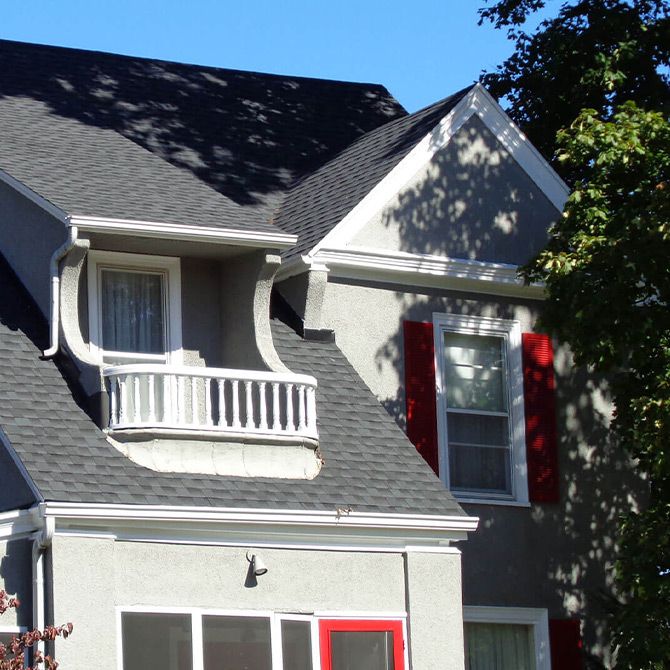 The Best Selection of Roofing Types
We Install a Number of Roofing Types to Fit Your Style
Whether you're building a new home or replacing an existing roof, we can recommend the best material based on the style you want, cost, weight, and installation requirements. Contact us today for a no obligation quote in Bloomington, Normal, Peoria, and Lincoln, IL.
Do You Feel Nervous About the Roof Replacement Process?
You have every right to be nervous. Roofing is a dangerous job that should be taken very seriously. From installation to roof repair and replacement, we approach each project with care. We focus on open communication, and getting the job done right the first time.
Very professional roofing company and respectful crew.
"Had a new roof and gutter guards on home and garage replaced 2 months ago. Very professional service and presentation. Contract presented along with license and insurance information along with paperwork showing carried workman's comp on employees. All work done within promised time frame. Perfectionism noted on completion of job and cleanup perfect. Employees very respectful and hard workers. Would recommend them and would use them again in the future if needed. Good job, thank you!" – Marie M.
Is your roof leaking? You may feel overwhelmed and unsure of how to proceed. Your first step should be to call a professional roofing company
Learn More »
As a homeowner, performing routine maintenance on various aspects of your house is important in maintaining your investment and preventing wear and tear. You probably
Learn More »
When was the last time you scheduled a professional roof inspection? Your roof has a sizeable job: protecting your home from the elements, keeping your
Learn More »